Scott's Computer Cabinet Project Page
I needed a computer cabinet, and no one makes what I wanted. The only option was to build one myself.
With a small computer farm, much to the dismay of my wife, I needed space to store my 4 CPUs in order to "hide" them (and the cables). I would guess that I could find a commercial grade cabinet, but I just wanted something for the home. I was unable to find anything along the lines of what I needed through the usual places like IKEA and such, so I designed and build my own.
The cabinet is now finished after just over a year of work, but I continue to create add-ons as needed.
Click on any of the pictures for a larger view. Click on the links to get to the different sections.
---
Current Condition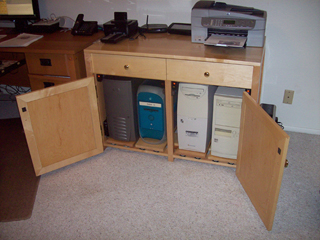 Current condition of the project.
---
The Site Menu